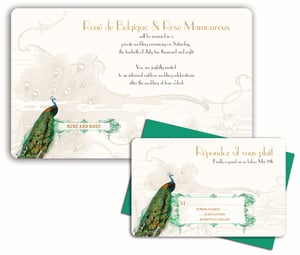 $

8.00
Voila! Here they are! Art Deco peacock wedding invites!
One of my most successful cards is now available in a wedding invite version!
:-)
This is a sample set to give you an idea of what your cards can look like in real....
This sample set includes several different envelopes and card sizes, in 3 different paper types to let you compare.
So you can see the different options, the colors and quality...
Together with this set, I provide you a very practical overview of all the sizes & prices that you can have in this design...
When you decide to go with me, I give you a refund for this set.
Payment:
Please pay at the time of purchase.
Colors may vary due to monitor setting.
design: © marijke janssens